Passion & Sincerity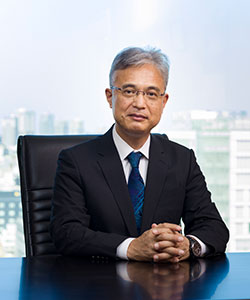 In the perpetual pursuit of customer satisfaction.
We continually keep this in mind while developing products and technology that will lead to the growth of our customers. We strive to be a corporation that while sharing values with our customers, opens new markets that enable mutual contribution to society.
To accomplish this, we abide by the company management philosophy, [Passion and Sincerity], taking a stance of commitment to sincerity with the utmost importance.
We are committed to creating truly special products by growing trust-based relationships with our customers, then with [Passion and Sincerity] we earnestly face our customers.
Company profile
Corporate Name
JCU CORPORATION
Previous Company Name
EBARA-UDYLITE CO.,LTD (till September 30, 2012)
Head office
TIXTOWER UENO 16F, 8-1 Higashiueno 4-chome Taito-ku,
Tokyo 110-0015
Phone:+81-3-6895-7001 Fax: +81-3-6895-7021
Foundation
December 1957
Establishment
April 1, 1968
Business contents
Production and sales of chemicals, machines, and auxiliary equipment for surface treatment
Capital
1,176 million yen
Annual turnover
Individual: 12,929 million yen Consolidated: 19,803 million yen (as of March 31, 2015)
Main banks
Mizuho Bank, Ltd. Ueno branch
Sumitomo Mitsui Banking Corporation Ueno branch
Resona Bank, Ltd. Ueno branch
The Bank of Tokyo-Mitsubishi UFJ, Ltd. Tokyo sales office
Representative
CEO Masashi Kimura
Number of employees
Individual: 252 Consolidated: 504 (as of March 31, 2015)
ISO certificate acquisition
ISO9001 Manufacturing HQ / R & D Center / Purchasing Department / Sales Department in HQ JCQA-0281

 

ISO14001 R & D Center / Manufacturing HQ JCQA-E-0143
Company profile
Corporate Name
JCU INTERNATIONAL, INC.
Office
Wixom MI, 48085
Phone:248-313-6630
Establishment
October 20, 2014
Capital
$5 Million
President
Akihisa Omori
Vice President
Hiroshi Ishizuka
April 1968
Established as a joint-venture for mainly manufacturing and selling surface treatment chemicals and machines
April 1978
Established Research and Development Center inside Fujisawa Plant
April 2000
Moved plant from Fujisawa to Joetsu of Niigata Prefecture
July 2003
Established branch in Shanghai, China
December 2003
Became independent by MBO
December 2005
Listed on the second section of Tokyo Stock Exchange
November 2006
Established branch in Chonburi prefecture, Thailand
February 2007
Established branch in Rayo de Jalisco, Mexico
March 2007
Listed on the first section of Tokyo Stock Exchange
March 2007
Established branch in Taipei, Taiwan
March 2007
Established subsidiary in Hanoi City, Vietnam
April 2007
Moved Research and Development Center from Fujisawa to Kawasaki City, Kanagawa Prefecture
June 2007
Established subsidiary in Gunpo-si Gyeonggi-do, Korea
October 2008
Started to use the Communication name of JCU and new corporate mark
January 2009
Established a subsidiary in Shenzhen, China
March 2010
Acquired the chemical and equipment department for PCB manufacturing business
July 2011
Established PT. JCU INDONESIA in Indonesia (consolidated subsidiary)
November 2011
Moved the headquarters to Higashiueno 4-chome, Taito-ku, Tokyo
October 2012
Changed the Company name to JCU CORPORATION
October 20, 2014
Established JCU INTERNATIONAL, INC. in Wixom, Michigan.